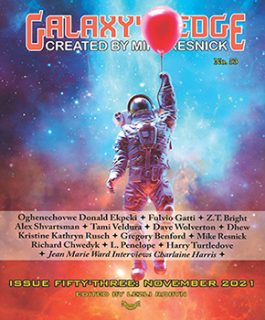 Submissions
THE GALAXY'S EDGE MAGAZINE SUBMISSIONS PORTAL IS CLOSED. ALL CURRENT SUBMISSIONS WILL BE RESPONDED TO.
THE SUBMISSIONS PORTAL FOR THE GALAXY'S EDGE ANTHOLOGY SERIES WILL BE LAUNCHED IN 2023. 
SPECIAL NOTE: The editor, Lezli Robyn has had some significant health setbacks and is still in the process of sending outstanding edits and contracts for inclusion in the magazine and anthology. She asks authors to please not contact the publisher, Shahid, directly if they haven't received a timely email response from her yet. Shahid has just gone through major surgery on his back and is recovering. Shahid and Lezli really appreciate your understanding (and patience) as Lezli catches up on all her correspondence. She is really looking forward to working with authors on the stories she's bought for Galaxy's Edge!
---
If you have not been professionally published before, feel free to also submit your story for consideration for THE MIKE RESNICK MEMORIAL AWARD for Best Science Fiction Short Story by a New Author. Submissions will be accepted between the 1st of September and the 1st of April, and you can find the guidelines and submit your story here.