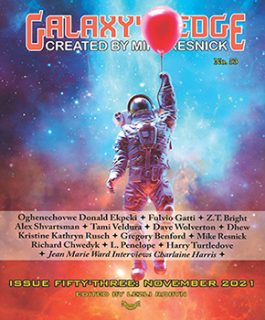 About
Galaxy's Edge is a bi-monthly science fiction and fantasy magazine that has published Aurora, British Fantasy, BSFA, Hugo, Nebula and Nommo nominated and winning fiction, and has been in print for over a decade, with new issues going live every January, March, May, July, September, and November.
Galaxy's Edge magazine has been edited by Lezli Robyn for several years, taking over from former editor Mike Resnick following his passing. Published by Shahid Mahmud under the Phoenix Pick science fiction and fantasy imprint of Arc Manor Publishers, you can find out more about this small but innovative press, and buy the books they publish, here.
The most recent issue of Galaxy's Edge can be read on the home page of this website (except for the novel serialization), where you can also find links to buy a subscription. You will also find purchase links to buy a singular ebook or print copy of the most recent issue directly from the publisher, or through reputable online venues such as Amazon and Barnes & Noble, with equivalent links to buy any of our previous issues on the "Archives" page, too.
Arc Manor Publishers is a Limited Liability Company registered in Maryland, USA.