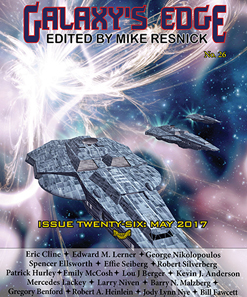 Submissions
Please note that our submissions window will close periodically to allow us to respond to submissions in a timely manner.
Guidelines:
We only accept submissions electronically either as a Word or RTF (Rich Text Format) file. Submissions in another form or included as part of the email text will be deleted.
The maximum size of the stories we will consider is 5,000 words.
We pay seven cents per word for stories which we accept.
We only accept stories in English (or foreign language works already translated into English).
Please do not inquire about submission till three weeks have passed since your submission.
All submission should be emailed to:
All inquiries regarding submissions should be emailed to  SubInq@GalaxysEdge.com